Hawaiian Day in Dingle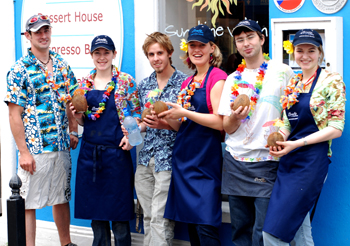 Cian (far left), our shop manager for the summer in Dingle, decided a good way to beat back the rain that's been afflicting us in these parts (and to cheer everyone up) was to throw a Hawaiian day in the Dingle shop. So on Saturday, the whole staff dressed up, and we put decorations about the place.
It really worked. Yesterday the sun shone brightly, so we kept it going today. Still no rain! Maybe it will have to become permanent…
Technorati tags: Dingle, Hawaiian, day, shop, ice cream
This entry was posted on Sunday, July 8th, 2007 at 4:07 pm and is filed under Dingle. You can follow any responses to this entry through the RSS 2.0 feed. You can leave a response, or trackback from your own site.