Flood of Entries for Food Awards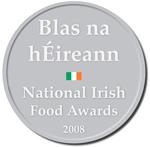 As of yesterday, we've had 500 + entries for 1st Annual National Irish Food Awards (Blas na hÉireann) (to be held in Dingle during the Food and Wine Festival). And more are still pouring in (the deadline for having posted it was today). It's a greater turnout than we ever expected, and it's really amazing to look at some of the entries and realise yet again the breadth of what we have on offer in this country when it comes to food.
We also have lined up the most amazing judges for the event (we're keeping that confidential, but let's just say we're not wanting for top talent in terms of journalists, chefs, and industry figures.)
I'm really looking forward to it now, although I'm still a bit sad I'm barred (by being an organiser) from entering our ice cream!
Technorati tags: food, awards, Irish, Dingle
This entry was posted on Friday, September 5th, 2008 at 7:09 pm and is filed under Dingle. You can follow any responses to this entry through the RSS 2.0 feed. You can leave a response, or trackback from your own site.