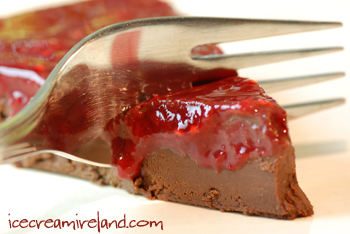 I ended 2007 with a chocolate recipe (Chocolate Whiskey Ice Cream), and given my chocoholic predilection, I think my first recipe for 2008 has to be a chocolate one as well.
This is a dense, intense chocolate experience. There's a bit of cognac in it for kick, and a topping of fresh raspberry puree. There's no flour, so it's gluten-free. It's not for the meek or chocolate-ambivalent. It's a chocolate lover's dream.
Ingredients:
500 g dark (70%) chocolate
500 ml cream
60 g butter
1 vanilla bean
2 tablespoons cognac
For the raspberry puree:
200 g raspberries
50 g sugar
What to do:
Melt the chocolate and butter in a double boiler over simmering water or a in a microwave. Take care – chocolate melts at a low temperature (ca. 37C) and it burns easily, so once it's melted, remove from the heat!
Cut the vanilla bean lengthwise and place with the cream in a small saucepan.
Cook over medium heat to a simmer.
Remove the vanilla beans and scrape out the vanilla seeds with a spoon or knife. Whisk in to the cream, and discard the beans.
Add the cream to the melted chocolate in small parts and mix thoroughly until smooth and velvety.
Stir in the cognac.
Pour into a 9 inch baking spring form or shallow, medium-sized metal bowl and refrigerate until hard.
Heat the raspberries and sugar in a small pan until the sugar is dissolved.
Press through a sieve with a rubber spatula or wooden spoon to remove the seeds.
Allow to cool.
If you have used a metal bowl, use a cloth soaked in hot water to heat the bowl enough to free the cake. Invert the bowl onto a plate and top with the raspberry puree.
Refrigerate until set.
If you have used a baking form, top with the raspberry puree and refrigerate until set.
Use a cloth soaked in hot water to heat the form enough to free the cake.
Slide it onto a plate.
Serve at room temperature with vanilla ice cream and a bit of chocolate sauce.