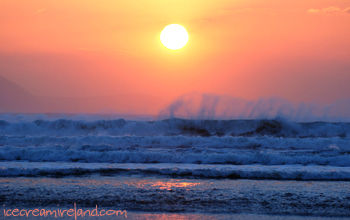 One of the things about living in Co. Kerry is that you're constantly overwhelmed by the beauty of the land and sea. Even after 13 years in residence, I find myself in awe.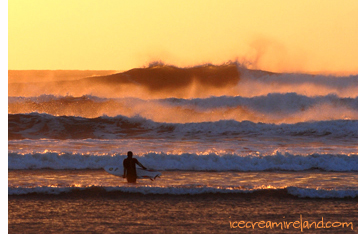 We have had both shops open, which is rare for this time of year, and we will close up after the weekend for a little break. In the meantime, with my brother visiting the inlaws in Germany, I've been running back and forth between the two shops, trying to keep them in ice cream and baked goods.
Yesterday, I was driving to Killarney with a batch of brownies and other odds and ends, when I had to stop at Inch Strand. It was simply too beautiful to ignore.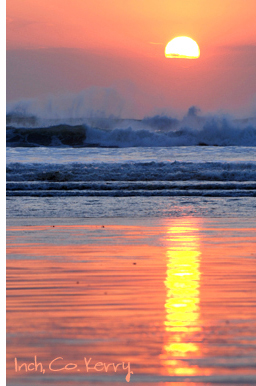 The wind was blowing back spray from the huge, rolling waves, the sun had started to set beside the mountains on the Iveragh Peninsula, and a lone surfer tried to battle the sea.
It might have been very cold, but I took a walk on the beach for almost an hour before driving on, soaking it all in. I wasn't the only one. Quite a few cars pulled over, as their occupants clearly couldn't resist a stroll or simply a long look.
What a blessing it is to live in such a place!
Later, I ate again at Cucina Italiana in Killarney. Another wonderful, comforting meal, especially on such a cold night. If you find yourself hungry in Killarney, don't miss it!