Final Reminder – Ice Cream Party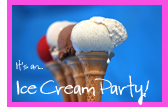 This is just the final reminder that there are just two days to go before I do a round-up of the Ice Cream Party! The idea of this is to help me test recipes for our upcoming cookbook. Anyone who wants to take part, see here, and get cooking! Thanks to everyone who has sent something in already!
Technorati tags: test, food event, ice cream, cookbook, recipe
This entry was posted on Friday, November 23rd, 2007 at 6:10 pm and is filed under Book. You can follow any responses to this entry through the RSS 2.0 feed. You can leave a response, or trackback from your own site.