25K for a Dessert? Rats!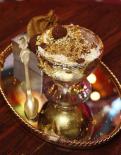 A couple of related news items have come to my attention. The first is that Serendipity 3, the New York eatery and creator of the $1,000 ice cream treat – their "Golden Opulence Sundae" set a Guinness World Record back when they introduced it some years ago – has gone a step further and released "Frrrozen Haute Chocolate" at $25,000. I guess for 25K, you get two extra "r's".
You also get a blend of cocoas, 5 grams of 24 karat gold mixed in, and a topping of La Madeline au Truffe. It's served in a goblet with a crown of gold and diamonds, with a golden spoon you can take home.
They haven't sold one yet, and before you rush over with your pile of cash, be advised that they have been shut down by the health department after failing two inspections in three months. It seems the inspectors found an infestation of little beasts and insects, perhaps with a taste for gold…
Technorati tags: Serendipity 3, New York, dessert, expensive, sundae
This entry was posted on Thursday, November 22nd, 2007 at 1:50 pm and is filed under Musings. You can follow any responses to this entry through the RSS 2.0 feed. You can leave a response, or trackback from your own site.