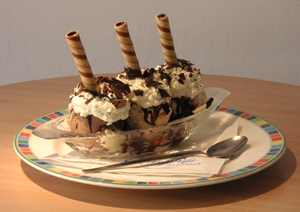 It seems the banana split was invented by a fellow named Strickler in Latrobe, Pennsylvania in 1904, although there is a bit of controversy about the fact.
In any case, it is an easy and indulgent treat to prepare, and the combination of the fruit, ice cream, and sauce, makes it a delight to consume.
To prepare it, simply take a banana and split it lengthwise. Pile on three scoops of ice cream (traditionally vanilla, chocolate and strawberry, although we substitute honeycomb in our shops.) Don't make them too big – it's already a big dessert!
Pour some chocolate sauce over the ice cream (you could also use caramel, or anything else that takes your fancy – pineapple was traditionally included).
Then pile on some whipped cream, and sprinkle chocolate shavings or sprinkles, nuts, or other toppings you enjoy over the cream.
A biscuit stuck in each scoop of ice cream completes the effect, and all that's missing is the spoon!
Technorati tags: chocolate, banana, banana split, ice cream, sauce