How to Make a Milkshake
Today in the Dingle shop, as part of our preparations for the Easter rush, we had a meeting with myself, my brother, and the two shop managers to work out exact specifications for each of our desserts. Basically that means we made each of our desserts and argued over what exactly goes into them and what's the best way of serving them.
We ended up with lots of desserts that we had to eat and, after tackling a sundae, I was faced with a chocolate milkshake. There is worse punishment to be had!
It's easy making a milkshake, but hard making it smooth with a regular blender or food processor (we have a special shake blender). Here's how you can do it: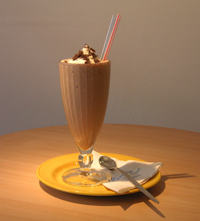 Murphys Chocolate Milkshake
Ingredients (serves 1): 
2 scoops Murphys chocolate ice cream
1 cup milk.
What to do:
1. Put the chocolate ice cream and milk in the blender or food processor and allow it to soften for at least five minutes (or more if you followed my storage instructions and had to chip it from a rock-hard tub). Blending it straight away will leave lumps of ice cream in the shake.
2. Blend until smooth on high speed.
3. Garnish with cream and chocolate shavings if you have the patience and any about the place.
Enjoy!
(Of course it doesn't have to be chocolate. You can make a milkshake with any flavour ice cream.)
Technorati tags: tips, chocolate, milk shake, milkshake, ice cream, Dingle
This entry was posted on Friday, April 7th, 2006 at 9:00 pm and is filed under Tips & Tricks. You can follow any responses to this entry through the RSS 2.0 feed. You can leave a response, or trackback from your own site.