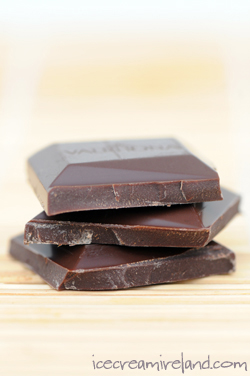 I've written several times about studies that show the health benefits of chocolate, including here and here. None of those studies, however, were as dramatic as a recent study in Sweden that shows that eating chocolate at least twice a week cuts the risk of dying for heart attack survivors by a factor of three. That's right! You're three times less likely to die if you've suffered a myocardial infarction, recover, and then gobble chocolate.
The study, which was published in the Journal of Internal Medicine, was led by Imre Janszky at the Karolinska Institute. It also shows that chocolate cuts the mortality rate in healthy older men and post-menopausal women. So, if you're in your golden years, make them a bit sweeter with a regular dose of chocolate.
As for me, any thoughts of tackling my chocolate addiction have been brushed well to the side. I've a good 70% bar staring at me that needs attention, so that's all for now!