Dingle Food and Wine Festival, 2009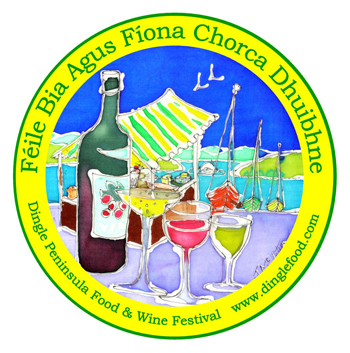 One of the things that has made the Dingle Food and Wine Festival (October 2nd-4th) such a standout over the last years has been the taste trails – pairing shops and cafes with food producers to offer food beyond the usual places – restaurants and supermarkets – and put it all around the town. It's worked a treat – fun and unexpected.
I've just received the list of this year's taste trail, and it's impressive!
2009 Dingle Food and Wine Festival Taste Trail:
Adam's Bar – Spinach Pancakes
An Canteen – Neil's Homecooked Delights
An Grianán – A Taste of Organic Snacks
An Moncaí Ocrach Youth Café – Sweet and Savoury Pancakes
Ashe's Seafood Bar – Scallop and Prawn Kebabs & Seafood Soup
Bee's Tea's – A Taste of Their own blend Fine Tea's
Benner's Hotel – A Taste Of Old Ireland
Blue Zone – a Taste of the Zone
Charthouse Restaurant – A Sample of Karwig Wines
Cúl Gairdín Wholefood Café – A Taste of Their Fine Produce
Curran's Bar – A Seafood Counter with Ballyhea Seafood Soups, Ted Brownes, Wild
Side Foods & Glenbeigh Shellfish
Deirdre's Café – Seafood Chowder
Dillon Gallery – A Taste of Ninth Island Wine
Dingle Bay Hotel – Longs Smoked Salmon pâté
Dingle Crystal – Wattle Tree Wine's
Dingle Reel Fish and Chip Shop – Fishy Fishy Treats
Doyle's – A Taste Of The Sea
Finn McCools Surf Shop – The Dingle Dingo's Aussie B.B.Q.
Fish at the Marina – Crispy Chilli Squid and sesame fried ricecake.
Fitzgerald Centra – Medal winners from Blas na hEireann '09
Foxy John's Bar – A Taste of Ashe's Black and White Pudding
Gallery Beag- A Taste of Ted Browne's
Garden Café – Ruggero's Italian Delights
Garvey's – Medal winners from Blas na hEireann '09
Global Village – Porter House Irish Pale Ale and Asian Scallops
Goat Street Café- The Wine Buff and Sweet Things
Greenlane Gallery – Wine tasting with Bubble Brothers
Half Door Restaurant – Fishy Bites
Hannie Agnes's Bar – Piog Pies
Irish Artman Gallery – A Wine Tasting with Pallas Foods
Jerry Kennedy Butchers – Samples of their Excellent Produce
John Benny's Bar – Oysters and Guinness
Lantern Town House – A Taste of Sweet Things
Marina Bar – Steamed Glenbeigh Mussels w Homemade Brown Bread
McCarthy's Bar – A Taste of the German Butcher
Murphy's Bar – A Taste of Murphy's Bar
Murphy's Ice Cream – Pride of Place – A Taste of Irish Ice Creams
Novocento Gourmet Shop – Fernando's Excellent Pizza Slices
O'Cathains Fish Shop – Seafood B.B.Q.
Out Of The Blue- Tim's Taste of the Sea
Paudie Moriarty Butchers – A Taste of his Fine Produce
Paul Geaney's – Paddy's Cottage Seafood Paella & Stuffed Mussels
Quills, Strand House – Spiritual Chocolate
Sheehy's Spar – The medal winners from Blas na hEireann '09
Ti Koz – A Festival Crepe
Tir na Rí – Taste of China
Waterside Restaurant – Suckling Pig and Crab Toasties
Technorati tags: Dingle, food, festival, wine
This entry was posted on Tuesday, September 8th, 2009 at 2:10 pm and is filed under Dingle. You can follow any responses to this entry through the RSS 2.0 feed. You can leave a response, or trackback from your own site.