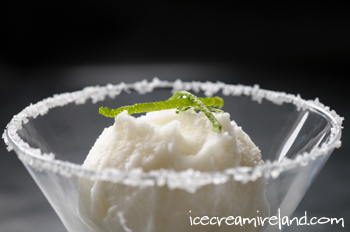 Here's the second of the flavours we're doing for our Mexican Fiesta at the rapidly approaching Dingle Food and Wine Festival. Margarita sorbet should be a real crowd pleaser, and we're certainly quite enamoured of it.
There are as many stories about the origins of the Margarita as there are ways of making it. A classic Margarita would generally have tequila, triple sec (such as Cointreau) and lime juice. The ratio varies, but a typical one would be (in order of the above) 2:1:1. It's a drink I love in all its variations, as long as I can lay my hands on good tequila (which is not always easy in these parts). Way back when I lived in Texas, my favourite Mexican restaurant, Fonda San Miguel served the most amazing frozen varieties.
For the ice cream, we've done it with and without the triple sec, and I think I prefer the latter. I'm not sure why that is, for I certainly like the hint of orange in the drink. We also like it with a little lemon, but you can substitute lime. I'll leave it up to you!
Murphys Margarita Sorbet
Ingredients:
340 gr sugar
500 ml spring water
100 ml good tequila (or a combination of tequila and triple sec)
300 ml freshly squeezed lime juice
60 ml lemon juice (or more lime juice)
Pinch of salt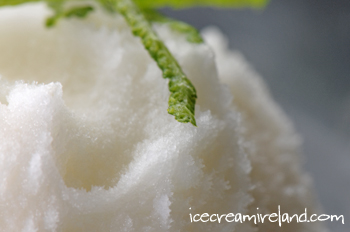 What to do:
Boil the water, then remove from the heat.
Stir in the sugar, until it is completely dissolved.
Cover immediately and cool completely.
Stir in the tequila, lime, and lemon juice.
Taste it to make sure you like it!
Freeze using a domestic ice cream machine, or cover and place in the freezer, stirring at 1 hr intervals to break up the ice.
Note:
It's hard to make sorbet without an ice cream machine. You will need to interrupt the freezing process and stir, or you will be left with a block of ice! The more times you do this, the better the consistency will be.
Technorati tags: margarita, tequila, lime, sorbet, ice cream, recipe