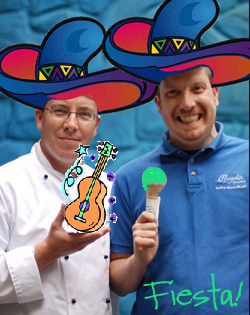 We've come up with our list of Mexican Fiesta ice cream flavours for the
Food Festival
in October. (Drum roll please!) They are:
Vanilla (Mexico is the original home of this exotic orchid)
Cajeta (Goat's Milk and Cinnamon Caramel)
Chocolate (Praise be!)
Kahlua Coffee
Praline Pecan
Mango Sorbet
Pay de Coco (Coconut & Almond ice cream)
Mexican honey and vanilla
Black Bean Chocolate Sorbet
Guacamole
Chocolate chipotle
Corona and Lime
Classic Margarita
Arroz con Leche (rice pudding ice cream)
Green Chilli Ice Cream
Baked Plantain (or banana if I can't find ripe plantains)
I'll be posting some of the recipes soon!
Technorati tags: fiesta, ice cream, food festival, Dingle