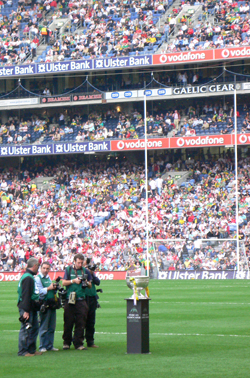 I'm back in a subdued and quiet Kerry after a trip to Dublin for the All Ireland. For a neutral, it must have been quite entertaining. For us it was a very stressful match, and unfortunately, the photo above shows the closest we came to the cup. Tyrone deserved their victory, and must be congratulated for their achievement.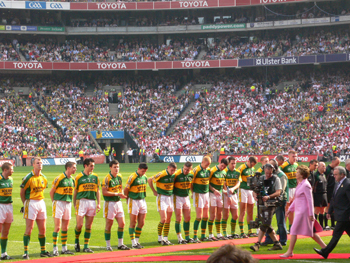 For most of the game, the teams were so evenly matched it looked to be heading for a draw, but Tyrone pulled away in the last minutes and Kerry had no response. 
It was a glum trip back on the train, but there were some positives including:
Sun!!!
Fantastic seats five rows from the sideline.
A great evening out in Howth last night with friends and a meal at Ivans.
The fact that it wasn't a draw has a bright side in so far as the Dingle Food Festival and the replay would have coincided, which would have made things really awkward.  
Here in Kerry, anything short of winning the final is a disappointment, but the county will proudly stand behind the team and live in hope for next year…
Technorati tags: Dublin, football, Kerry, All Ireland