Bandita!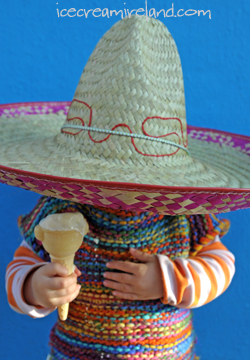 It's been a while since uncle fever has hit this site, so here are a couple of photos of my niece Una.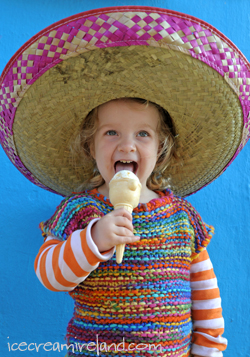 The background:
We ordered some props for our Mexican Flavour Fiesta (hats, ponchos, and even mustaches – spare a thought for our poor staff), and when I arrived at our Dingle shop this afternoon, I found Una trying on one of the hats.
I thought it was so cute, I had to bolt home to grab my camera.
She had run out of patience with the hat by the time I returned, so I had to bribe her with ice cream to get her to pose. I think it was well worth it!
Anyway, we've made most of the fiesta ice creams, and there's only a week to go before the food festival. We're all looking forward to it, and I just hope our customers like the Mexican flavours as much as we do!
Technorati tags: fiesta, ice cream, food festival, Dingle
This entry was posted on Friday, September 26th, 2008 at 7:45 pm and is filed under Caught with Ice Cream. You can follow any responses to this entry through the RSS 2.0 feed. You can leave a response, or trackback from your own site.