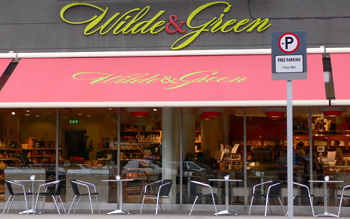 I am now back in Dingle, with my trips hopefully behind me for a bit, and today I spent much of the day happily making loads of chocolate sorbet for the shops.
However, I wanted to pass on a couple tips from Dublin:
1. If you live in the Milltown area, check out the new food shop, Wilde and Green (photo above). It's really beautiful inside and has a tasty array on offer (including a good selection of our ice cream). It also contains a Liz Earle shop – more on that here. Shop address: St. Anne's, Milltown Road, Dublin 6.
2. Morton's has added a cafe as part of their refurbishment of their Ranelagh shop. The coffee was excellent, the whole places looks fantastic.
Happy eating!