A Weekend Blend of Ice Cream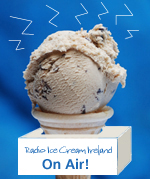 For anyone interested, my brother and I will be on Weekend Blend on Newstalk at around 11:00 am today (repeated tonight), talking about the book and making ice cream.
Technorati tags: radio, Newstalk, Weekend blend
This entry was posted on Saturday, July 5th, 2008 at 8:26 am and is filed under Awards, Press, Publicity. You can follow any responses to this entry through the RSS 2.0 feed. You can leave a response, or trackback from your own site.