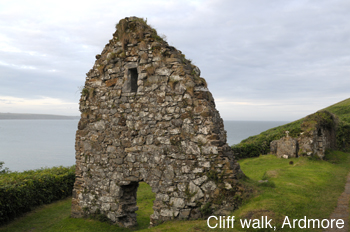 Just a little recap of the rest of my Cork sales trip:
In Kinsale, I visited Mange Tout, a little, tasty shop for delicious food on the go and a good place to grab a cup of coffee.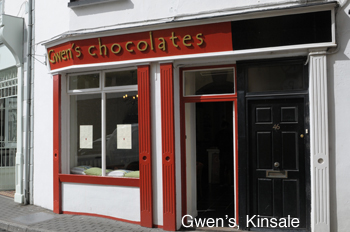 I also learned that Gwen's Chocolates has opened a branch in Kinsale, and any chocoholic will find their new place irresistible. It's a stylish, continental-style chocolate cafe, and you can indulge in a cup of the hot stuff, pick up a bar from a good-sized range, or arm yourself with tongs and fill a bag from the mouth-watering rows of truffles.
I made it to Cork City in time for lunch, and managed to find a table at my favourite restaurant there – Cafe Paradiso. Dennis Cotter has been working his magic for a long time, but it feels as fresh as ever. The risotto I had with Bluebell Falls goats cheese, avocado and fresh peas was one of the best dishes I've tasted in a long while.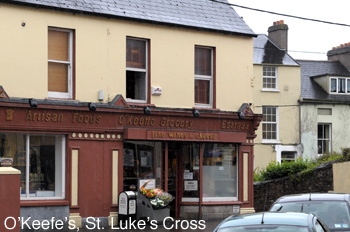 We have a few new accounts coming on-line in Cork, notably JJ O'Driscolls and the Spar on the Douglas Road. This is great news for us, since finding our ice cream in the city has been difficult. The Blue Olive still has a selection, as does the brilliantly old-school O'Keefe's gourmet shop in St. Luke's Cross.
I spent the night outside Youghal in Ardmore (why not?), where the bed and breakfast lady turned out to be a regular Kerry visitor and customer in our Dingle and Killarney shops. The town is a gem, and the stunning cliff walk (photo top) is balm to the soul.
The next morning, I visited another new account – Grandon Fine Foods in Sallybrook near Glanmire. A gleaming shop attached to a petrol station, it seems to be quite a popular stop for a snack.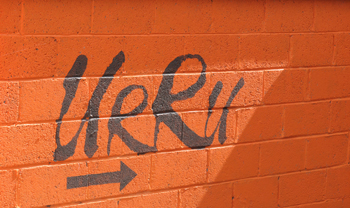 On the way back to Dingle, I stopped at Urru in Mallow. Ah, to have an Urru in Kerry! Any foodie who hasn't visited one of their two branches is seriously missing out. And, if you're lucky, you'll find food blogger supreme, Caroline, behind the counter in Mallow. She served me up a bit of the aforementioned goat's cheese and some smoked crackers to help me survive the trip back home.
It's a lot of driving, but I must do this more often!
Technorati tags: Cork, restaurant, food, shop, ireland