Do Dogs Need Ice Cream?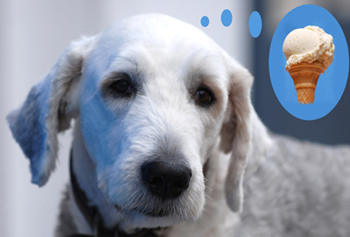 A reader of this blog passed on the following tidbit – there is actually a company that makes frozen treats for dogs. Yes, indeed, Polar Pups in Chicago makes soy-based doggie ice cream.
Ivan, the ice cream dog (shown above), has been known to enjoy an ice cream. In fact, he loves to hover outside our shops in the hope of distracted children and dropped cones, so maybe there is something to it. Mind you, I think he likes the actual wafer bit better than the ice cream, unlike the insatiable ice cream cat.
However, we try to keep their intake to a minimum, and other Irish animals shouldn't get up their hopes when it comes to what we do. We'll be sticking with ice cream for humans. For all other species wanting a taste, hanging around outside our shops is a pretty good bet. Something's bound to fall…
Technorati tags: Ivan, dog, Polar Pups, ice cream
This entry was posted on Thursday, March 27th, 2008 at 6:47 pm and is filed under Musings. You can follow any responses to this entry through the RSS 2.0 feed. You can leave a response, or trackback from your own site.