How Cool is This?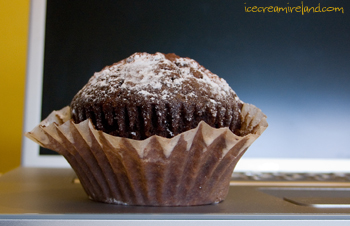 I had an excellent surprise – in the middle of a day of proofing the latest version of the manuscript in the office and constantly running downstairs to scoop ice cream during this busy Easter week, I received a present of cupcakes.
It was Laura from Eat Drink Live, who was visiting Dingle from Limerick with her wonderful little daughter. And yes! Her baking tastes as good as it looks o her wonderful blog. The customers who can buy her muffins regularly at Ivan's are lucky indeed!
Thanks, Laura!
This entry was posted on Tuesday, March 25th, 2008 at 8:29 pm and is filed under Musings. You can follow any responses to this entry through the RSS 2.0 feed. You can leave a response, or trackback from your own site.