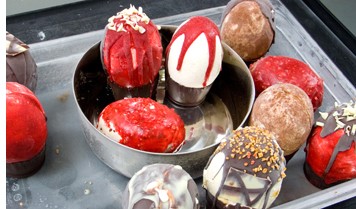 Easter is early this year – we've hardly finished celebrating St. Patrick's Day! In fact, Easter can only ever fall on one day earlier, and that hasn't happened since 1818. The lastest day it can fall upon is April 24th, and that isn't due to happen until 2038. In any case, it's definitely March here with a forecast of a cold and blustery weekend. We'll just have to make the most of it here in the world of ice cream and warm up our customers with good cheer.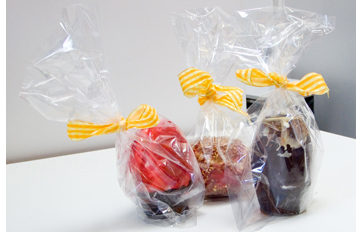 Last year, we tried making ice cream easter eggs, and we made some more this year. If you want to make some, you will need some egg moulds. You simply pour the ice cream into the moulds and then decorate them when they are hard. This year, we experimented with dipping them in rasperry coulis, which dyed them a pleasing red. We also sat them in chocolate cups.
I'd love to take a course in decorating desserts, but playing with melted chocolate and other toppings sure makes for a fun afternoon – whatever the outcome. I don't think we'll sell these, but possibly give them away as gifts…
P.S. Happy news – Lent ends tomorrow!