Raspberry Coulis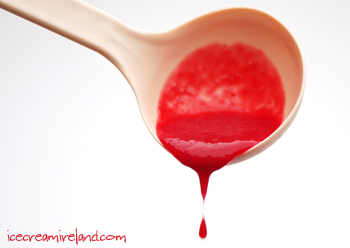 With raspberries in season, a great topping for ice cream is raspberry coulis. It's tart and delicious and dead simple to make!
Murphys Raspberry Coulis
Ingredients:
Small punnet (125 gm) raspberries
2 tablespoons sugar
1 teaspoon fresh lime juice
What to do:
Combine all the ingredients in a blender or food process and puree until smooth.
Pass through a fine sieve using a rubber spatula or the back of a wooden spoon until only the seeds are left.
Discard the seeds.
Enjoy!
Yield: 150 ml coulis
It will last around 3 days if refrigerated, but I suggest you eat it straight away!
Technorati tags: raspberry, lime, coulis, sauce, recipe
This entry was posted on Thursday, August 2nd, 2007 at 2:47 pm and is filed under Candy, sauce. You can follow any responses to this entry through the RSS 2.0 feed. You can leave a response, or trackback from your own site.