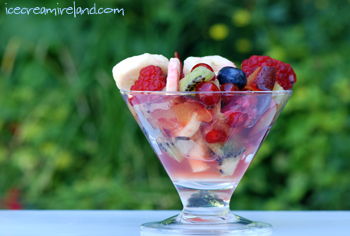 It might be drizzling this morning, but for the last few days in Dingle, the sun has been blazing down and everybody's spirits lifted. I bought a heap of fruit to go making fruit salad. I think there are few things I make at home that are quite as expensive, but there also are few things that taste as good on a summer's day. Fruit salad can be eaten on its own, topped with cream, or poured over ice cream.
Here are some tips to making a great fruit salad:
Use fruit you like!
Make sure the fruit is ripe.
Try to buy local fruit that is in season when ever possible. Nothing beats it!
Choose fruit with a variety of colours to make the salad look its best.
Mix up the textures a bit – smooth fruits, crunchy fruits, etc.
Squeeze in the juice of a couple of lemons or limes. This will help keep the fruit from turning brown.
A tablespoon or two of cognac is a great addition!
Letting the fruit salad sit for a few hours will greatly enhance the flavour, especially if you have put in some cognac. (It's a good idea to leave it in the refrigerator).
If you do add sugar, add less than you think you would need. The fruit salad will become a lot sweeter as it sits a while.
Serve it in a glass dish for dramatic effect.