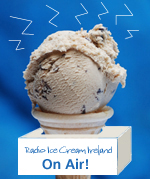 For anyone interested, I will be on Newstalk tomorrow (Thursday) around 11:30am talking about tasting ice cream. I think there will be someone on from Green and Blacks as well, so between the ice cream and the chocolate, it should be a sweet show…
Thanks to Declan Burke who was on Matt Cooper yesterday talking about books from bloggers (a rapidly growing bunch) and kindly gave Ice Cream Ireland and our upcoming book a mention.
Finally, this site has made the finalist shortlist for the "Best Blog" category at the Irish Blog Awards along with Bock The Robber, Maman Poulet, On The Record, Fatmammycat.com, Beaut.ie, Twenty Major, Gingerpixel, Irish Flirty Something, Grannymar. I'm thrilled to be among such an impressive bunch!
Technorati tags: tasting, radio, Newstalk, Matt Cooper, podcast