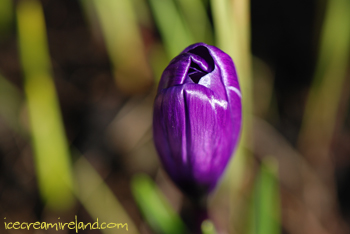 I'm in such a good mood! The sun is shining here in Dingle, this morning I found the most beautiful crocus (photo above) in my garden, there are daffodils popping up everywhere, and it well and truly feels like Spring!
I'm happy that my friend Cynthia won an Oscar for her documentary Freeheld, and I was delighted for Glen Hansard as well, who we've been lucky enough to hear in Dingle on numerous occasions.
And, best of all, after almost a month of grinding through yearly accounts, paperwork, and pre-season planning, I'm finally going back into the ice cream kitchen this afternoon to play (developing caramelised coffee sauce and better chocolate chunks). Things are looking up!
Technorati tags: Dingle, Irish, spring, crocus, Oscar, Freeheld