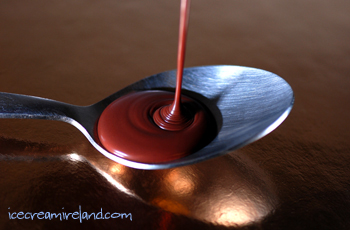 As part of the food festival, my brother and I will do a cooking demonstration in St. James' Church in Dingle (Saturday, 3:30). We've decided to do brown bread ice cream with a chocolate whiskey sauce. I've been tinkering away with the sauce, and here's what I've come up with…
Chocolate Whiskey Sauce
Ingredients:
150g good quality dark chocolate (I used 2 bars of Valrhona Gran Couva)
100ml milk
20g sugar (around 1.5 tablespoon)
45ml cream (about 3 tablespoon)
30ml whiskey (about 2 tablespoons)
What to do:
Melt the chocolate in a double boiler.
Heat the milk and sugar in a very small saucepan over low heat to a low simmer, stirring until the sugar is dissolved.
Add the milk in small parts to the melted chocolate, stirring all the time until you have a smooth, glossy emulsion.
Stir in the cream.
Allow to cool completely.
Stir in the whiskey.
Note: you can freeze this sauce if you won't use it all soon. Otherwise, it will last in the fridge about 3 days.
Technorati tags: chocolate sauce, whiskey, chocolate, ice cream, recipe