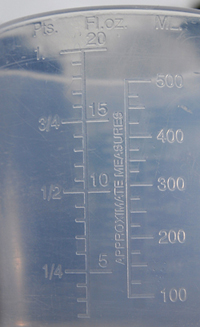 It's funny – as I've been working through recipes for the cookbook and for our demonstrations, I've come up against the problems we had in our early days with using cups as measures. We only use litres and grams for production here, and now I remember why!
The "imperial" or UK pint is 20 ounces. A US pint is 16 ounces. A UK cup is 10 ounces, and a US cup is 8 ounces. The problem is that here in Ireland, depending on the manufacturer of the measuring cup, it might be US or UK. That's a 20% difference in volume!
We had so many recipes come out wrong in the early days. We knew the standard here was imperial, so we did our calculations. What we didn't expect was that we were sometimes using US measuring cups. We couldn't understand how recipes could come out so differently, until we finally figured it out.
I wonder how many people out there have been disappointed with the results of recipes that might be US measures and they have a UK measuring cup, or vice versa.
So… I'm going metric only in the cookbook, with a conversion page. Believe me, what ever you might think of metric, it's far safer!
Technorati tags: measure, recipe, Imperial, metric, conversion