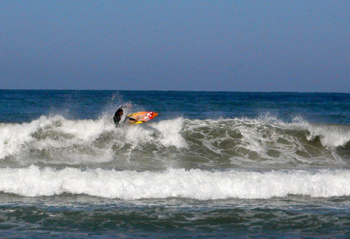 That's not me on the surfboard. No, I have been quite diligent here, working away on the book. Still, there has been time to stroll around the place and get a sense of Biarritz.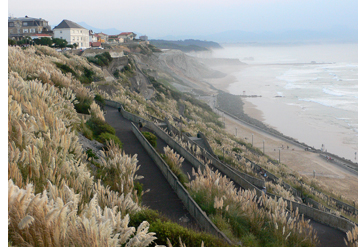 It's surprisingly quiet, so I don't know if we'll be opening a shop here anytime soon! But the tranquility is what makes it appealing – a relaxed place, with slightly faded grandeur.
One thing is certain – it is very popular with surfers. The beach is packed with them. They are the only people who seem in a hurry – I've met a few running down the streets in wetsuits, boards tucked under the arm, to try to catch the next wave.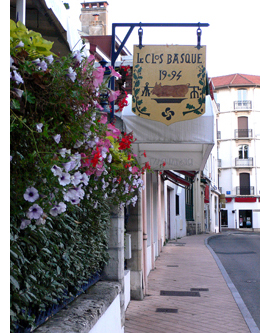 This evening I had a delightful meal in Le Clos Basque Restaurant (12, Rue Louis Barthou, Biarritz). Tucked away down a side street, the interior is charming with white-washed walls and starched blue and white tablecloths.
The food was inventive (perfectly cooked skewer of prawns with strawberries and a vanilla risotto, gazpacho with black pepper and mint served with a slice of peasant bread and aged parmesan, stewed apricots with lavender chantilly) and worth waiting for (the place was packed, and the waiters seemed a bit overwhelmed). The prices were as surprising as the food – less than 30 euro per person for three courses including wine…
Reservations are essential. So book ahead and don't miss it. After all, what's the hurry?
Technorati tags: Biarritz, France, food, book, Le Clos Basque, restaurant