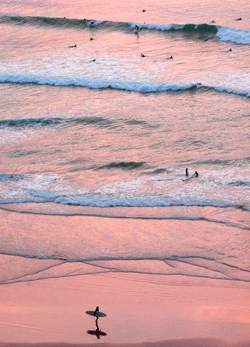 One could get used to life in Biarritz. A swim and then coffee in the morning, followed by a visit to the market, a day writing, and a sunset stroll before dinner to look out across the water and to marvel at the amount of surfers, bobbing around like a huge family of seals.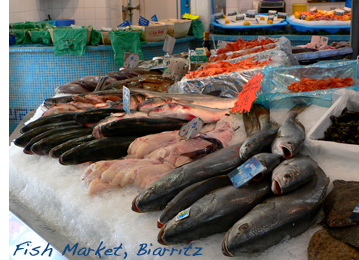 The markets in France have always been a source of joy for me. Life in Ireland has greatly improved with the advent of the farmer's markets, but still we are a ways from what one can find on this side of the water – especially in terms of vegetables, fruits, baked goods, and freshly-caught fish.
Every day, my lunch has consisted of booty collected at the market – prawns, local cheeses, fresh yogurt, and whatever looks especially tasty in terms of vegetables and fruits.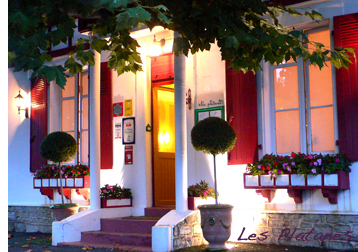 Nights have been about checking out the local eateries. Last night the restaurant was
Les Platanes, a restaurant with a Michelin star, in an old house with plenty of charm.
The service was friendly and the food was quite good, although perhaps not quite what one would expect given the reputation. Could be, of course, that the chef was distracted by the rugby and and not giving the cooking the usual attention. I'm guessing it's bad form to go for a meal while "Les Bleus" are playing. From my perspective, however, given Ireland's performances, I was happy for the distraction!
(P.S. from Saturday night: Just back from Chez Albert down at the pier. It's a seafood restaurant with a stunning location. Inventive and delicious. Definitely recommended, but give the desserts a miss.)