New Sign for Dingle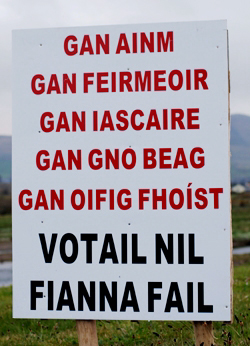 It's been a crazy weekend in the shops, with a massive Easter rush, and I have hardly had a chance to catch my breath, let alone post anything. However, this sign has just appeared at the Milltown roundabout in Dingle, and I couldn't resist snapping a photo. It certainly will get Dingle people talking.
For those without Irish, it's a reference to the Dáil's upcoming election and the difficulties facing the area and says: No Name, No Farmers, No Fishermen, No Small Businesses, No Post Offices, Vote No to Fianna Fáil. "Gan" actually means "without," but hopefully you get the idea…
Technorati tags: Dingle, Election 2007, Fianna Fáil
This entry was posted on Monday, April 9th, 2007 at 7:45 pm and is filed under Dingle. You can follow any responses to this entry through the RSS 2.0 feed. You can leave a response, or trackback from your own site.