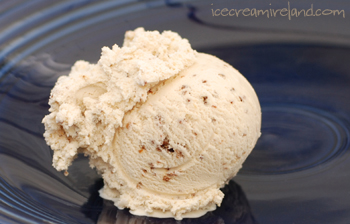 We have made one of the nicest flavours to ever have come out of our production, and it is Brown Bread and Guinness ice cream. My brother Sean wanted a special flavour for St. Patrick's Day, and this is what we came up with. Here it is:
Murphys Brown Bread and Guinness Ice Cream
Ingredients: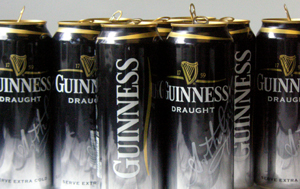 1 Cup (237ml) Sugar
5 Egg Yolks
1 1/8 Cups (266ml) Cream
1 1/8 Cups (266ml) Milk
1 Can (500 ml) + 2 tbsp. Guinness
2 Cups (500 ml) volume of stale brown bread crumbs (use a dense, dark brown loaf).
7 Oz (200gm) Dark brown sugar
Yield: 6 Servings
1. Measure out 100ml of Guinness and set aside.
2. Boil 400ml Guinness until it reduces to 100ml in volume. Cool.
3. Beat the sugar and egg yolks together until thick and pale yellow.
4. Bring the milk to a simmer.
5. Beat the milk into the eggs and sugar in a slow stream.
6. Pour the mixture back into pan and place over low heat. Stir until the custard thickens slightly (around 70C). Use a thermometer, as at 75C the eggs will scramble!
7. Allow the custard to cool.
8. Put the dark brown sugar in a pan, add the 2 tbsp. Guinness, and cook until it is melted and completely liquid. Remove from the heat.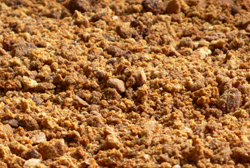 9. Stir the bread crumbs into the melted sugar, then spread on a baking tray and cook in the oven at 175C (350F) for about 20 min, until the brown sugar is caramelised and the crumbs are crispy. Keep an eye on it, though, that it doesn't burn.
10. Cool the crumbs, and add to the custard base.
11. Stir in both the reduced and non-reduced Guinness.
9. Whip the cream.
10. Gently fold into the custard.
11. Freeze using a domestic ice cream machine, or cover and place in the freezer.
Notes:
1. I havent made this recipe for home use, so I would love any feedback if you try it!
2. I combine reduced and non-reduced Guinness because using just reduced loses a bit of freshness in terms of flavour.
Technorati tags: brown bread, guinness, St. Patrick's Day, ice cream, recipe, Irish