German Butcher, Killarney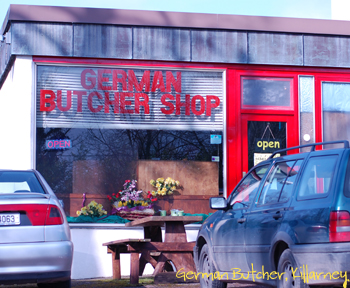 Anyone visiting or living in the Killarney area would do well to seek out the German Butcher Shop in Aghadoe (halfway up the hill on the road to Milltown). That is, if you're not already one of their many happy customers. It's the kind of place you're most happy to have in your life.
Besides all sorts of meats, including Killarney Park venison, they have an interesting array of German foods that are not so readily obtainable. For people like me, with a serious sweet tooth, they have a tantalising selection of German biscuits and chocolates…
Technorati tags: butcher, Killarney, Kerry, German, Aghadoe, chocolate
This entry was posted on Sunday, March 11th, 2007 at 3:51 pm and is filed under Killarney. You can follow any responses to this entry through the RSS 2.0 feed. You can leave a response, or trackback from your own site.