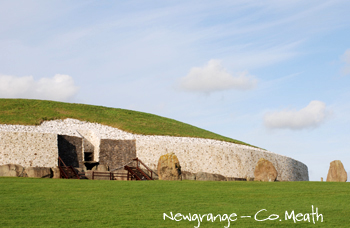 Before getting back into the world of ice cream, I just want to add something more about my trip. When coming back from Belfast, we decided to stop at two of Ireland's most important historical sites – Newgrange and the Hill of Tara. I especially wanted to see the latter before the proposed motorway becomes a reality. So I entered "Newgrange" into the GPS, and we wound our way through the suburban sprawl that is the new Ireland.
It's been many years since I've been to Newgrange, and when we arrived, I found out the disappointing news that the only access is through the visitor centre, 10 minutes away by car. You have to drive there, join a tour, and they bus you back and escort you through. This didn't appeal to me much, as I am allergic to bus tours, and I grumbled and suggested they signpost this fact on the access road. The woman on guard said rather curtly that if I had come through Slane, it would have been well-signposted, and that I couldn't expect to waltz in on a World Heritage Site. I pointed out that Slane is not on the way from Belfast, and that I had just done a bit of waltzing on the Giant's Causeway! I understand the need to preserve Newgrange, but does the visitor centre really need to be so far away, and in the depth of January when there is hardly anyone there, does every visitor really need a bus tour?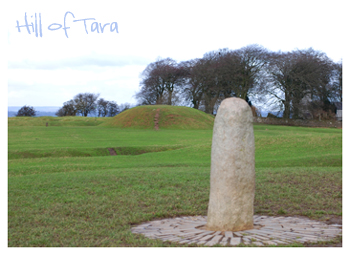 So we headed on for Tara, and it is quite a contrast. There, you can wander around as you like, and little effort has been made to protect or explain it (the church/visitor centre was closed this time of year). Certainly this amazing site should be protected as well, and it should be free from motorways. Is it really possible that we value suburban sprawl so highly and give so little value to our heritage and our history? Of course one might argue that if Tara were made into a heritage site, you'd be back to heritage centres and the bus for access. Then again, the new motorway would probably get you there and back faster!
Technorati tags: Newgrange, Meath, Tara, Ireland, world heritage, history