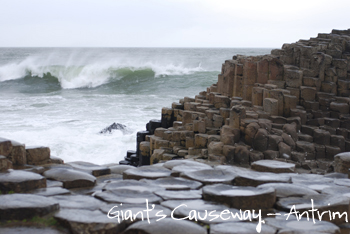 Although my sister married a Derryman, they are living in Germany now, and it's been years since I've visited the North, outside of a short trip to Belfast. So I was looking forward to cruising the Derry and Antrim coast, and it didn't disappoint.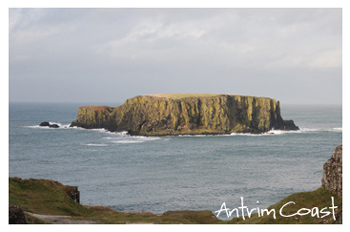 It's so unspoiled, compared to the Republic – there are none of the endless, ugly holiday home estates that mar the landscape from Dingle to Donegal. There are caravan parks and holiday homes, but they seem to be limited to the towns. Instead, there is beautiful landscape and open roads. It's a fabulous place for touring.
It's easy to spend a few hours on the Giant's Causway, and it's a deserved World Heritage Site. Even with those hours, it's not too much to travel the coast from Derry to Belfast in a day.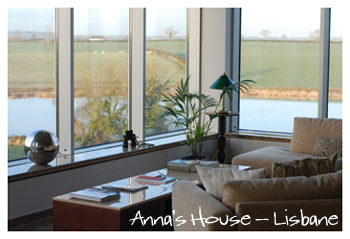 We had booked a place for two nights outside Belfast – Anna's House, which gave us peace and quiet with easy access to Belfast restaurants. This place is a true gem, and Anna's hospitality is unsurpassed. She whipped up home-baked breads and scones for breakfast, met us with tea and cakes in the evening, and did everything in her power (which is considerable) to make us comfortable. Not to be missed.
The first night we ate at Macau on the Ormeau Rd., since I was craving something ethnic. An appetiser of coconut-battered prawns of amazing size and tenderness was followed by a sizzling pot of monkfish. Yum! Why does it have to be so far away from Dingle?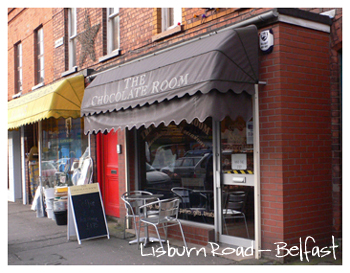 The following day I wandered around the Lisburn Road in the morning. I want to put a Murphys Ice Cream shop there! It's cosmopolitan and has lots of cafes and galleries. There are many places for rent – due to gentrification and spiraling rents. While there I visited Swantons Gourmet Foods – a place that would get any foodie's heart thumping, and had an excellent hot chocolate in the Chocolate Room.
For lunch, we headed toward Holywood and ate at the Bay Tree, where we had some excellent soup and leafed through their new cookbook.
For dinner, it was hard to choose among all the good restaurants. In the end we chose  James Street South. It was the best meal I had in a long time – a sublime black pepper risotto followed by tender red snapper, and a camomile creme caramel. For people who say Belfast is hot when it comes to cuisine – yes, yes, yes!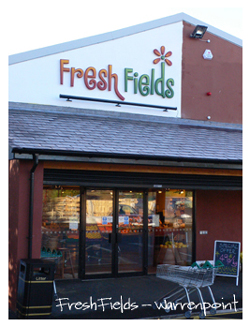 The next morning, we headed for Warrenpoint, where we have our first customer in the North – Fresh Fields. I guess you could say we are now an international company!
I chatted with the personable Neil about the ice cream, and it seems to be going well. Apparently he has had many customers who have heard of us, and he has re-ordered the ice cream several times.
The shop is delightful – lots of produce and a very intelligent array of gourmet foods. We spent our last pounds on tasty snacks for the road, and headed back toward the South…
Technorati tags: Ireland, North, Derry, Antrim, Down, food, Belfast