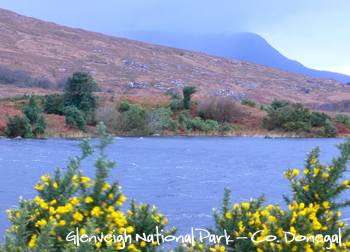 Armed with the fantastic Bridgestone Guides and some recommendations, we headed up the country from Dingle in search of good food, good scenery, and a bit of a break in the bleakness of January.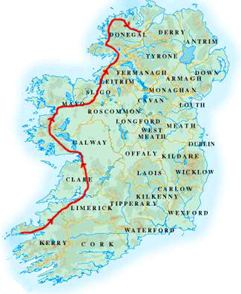 Although the weather can be bad and some places closed, Winter is a good time to travel, since nothing is booked out, you have the countryside to yourself, and there are real bargains to be had in terms of lodgings.
Since it's the quiet season in the world of ice cream and the workload is diminished, it's a perfect time to explore parts of the country one doesn't usually get to…
The first stops were in Galway – deliveries of ice cream to Ard Bia in Galway city (sadly we didn't have the hunger to enjoy their lunch menu due to too much snacking) and to the multi-award-winning McGeough's Butchers in Oughterard.
We pushed on then, heading up through beautiful Connemara for a stroll around Westport, then on to Sligo, where we had booked into Cromleach Lodge.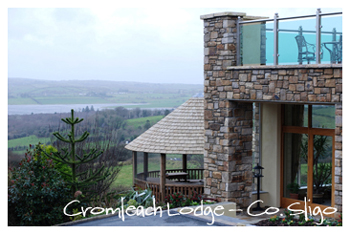 This highly-rated establishment has been recently refurbished, and it was very comfortable.
I think we were the only people spending the night, and there were only two other tables booked at the restaurant. Perhaps because the kitchen was so quiet, the meal was a bit of a let-down. The breakfast in the morning, however, was fantastic.
The next day we drove to Donegal, stopping for the cliff walk before Bundoran to take advantage of a break in the rain, although the high winds made things a bit difficult. In Donegal town, we visited Aroma and were not disappointed in the cakes. Top class baking.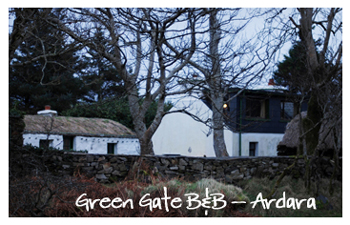 We decided to spend the night in Ardara, having heard great things about the rustic Green Gate B&B, where there's no TV or phones, and where the legendary ex-Parisian bookstore owner Paul had made headlines after cancelling all his American bookings (he had one too many head elsewhere after seeing how basic it was). And yes, he is accepting Americans again, but be warned – it is as basic as it is charming…
Nancy's Bar in Ardara sadly does not do food in the off season, as I've been told they do the best chowder in Ireland, but it is definitely worth a stop. The Guinness was mighty, the atmosphere homey, and the conversation great…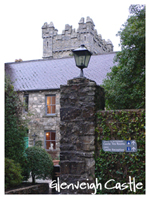 The next day we drove around the coast, then headed into Glenveigh National Park for a walk. Although we ended up drenched from the rain, it was a good stroll, and some tea in Glenveigh Castle helped to warm ourselves.
We spent the night in Castle Grove House in Letterkenny, which we loved. On a quiet, restful site, it has tasteful furnishings, high ceilings, tasty food, and two drawing rooms with huge roaring wood fires to warm the bones.
The following morning we filled the van with diesel and headed toward the border…
(Part 2 to follow – Antrim, Belfast and Down)
Technorati tags: Ireland, North West, travel, Galway, Sligo, Donegal