Max Brenner Chocolates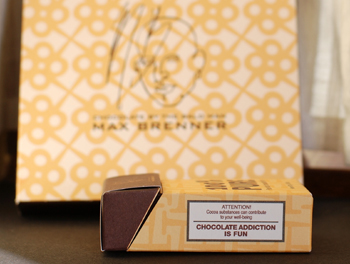 Today I ventured into our closed Dingle shop to pilfer some coffee beans (it's been a terrible shock to the system having the shop closed, since I became quite used to rolling out of bed in the morning and heading to the shop to warm up the espresso machine and make a latte to kickstart the day) when I found the Max Brenner chocolates still on the counter – a gift brought from New York by a customer.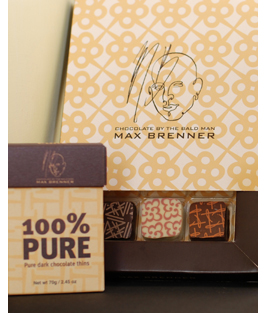 Max Brenner is an Israeli company (the name is a composite of the two original owners), has branches in Australia and other parts of the globe as well, and I'm told they do a mean hot chocolate in their cafes. It would seem from the packaging that there is as much emphasis on marketing as on chocolate, but it seems to be working. There are photos of one of the NY shops and one of the original owners here.
I know I don't get about often enough and that I've been away from New York City too long when it takes the great Lady K to bring back samples from the latest NY chocolate shops, and I haven't even heard of them!
I guess it's another excuse to go travelling again. New York? Then again, I've always wanted to go to Israel. Well, one can dream…
Technorati tags: chocolate, shop, hot, Max Brenner, Israel, New York
This entry was posted on Sunday, January 21st, 2007 at 5:43 pm and is filed under Chocolate. You can follow any responses to this entry through the RSS 2.0 feed. You can leave a response, or trackback from your own site.