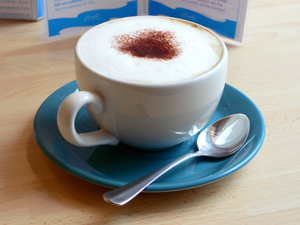 A cappuccino should be a decadently frothy, silky concoction with a strong coffee hit. It's a coffee drinker's drink as opposed to a latte, which is for those who like their coffees weak. With a good cappuccino, the foam should be as much a sensation as a taste – a vehicle for the espresso. Unfortunately, it is rarely so. It is one of the most abused espresso bar drinks in Ireland.
The cappuccino is thought to derive its name from the Capuchin monks, or more specifically their hoods – capuccio. In Italy it's generally a breakfast drink, but elsewhere is enjoyed all day long. The proportions are generally agreed to be 1/3 espresso, 1/3 milk, 1/3 foam.
It is unusual, however, to get more than a few millimetres of foam on a cappuccino in most cafes in Ireland. This has to do with over-heating the milk – I have talked about the importance of milk temperature before, and a general lack of care. In fact, there is often no difference between a latte and a cappuccino except the powdered chocolate.
In our shops, we generally like to think of cappuccinos slightly differently from the proportions above, which we consider slightly misleading. We don't like the three elements to be separate but rather espresso with frothed milk that has doubled in volume but stays intact. Scalded milk with some egg-white-like foam perched on top doesn't do it for us.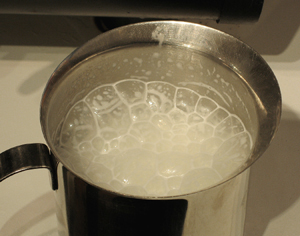 Interestingly, this time of year it's harder to froth the milk. As the cows go off a diet of grass and start eating silage, the protein levels in the milk fall. We have noticed the difference in the past few days. The milk bubbles become larger and less stable (see right), and they tend to readily collapse again.
Since we use a dairy that renowned for its fresh taste and that doesn't alter or stabilise its milk, we feel the change acutely. It is possible to get milk that is controlled for protein, and I have seen it in more and more cafes in Dublin, but the taste definitely suffers.
So I guess we just have to take even more care and look forward to the cows on the grass again!
Technorati tags: espresso, coffee, cappuccino, milk, frothing