Baking Cupcakes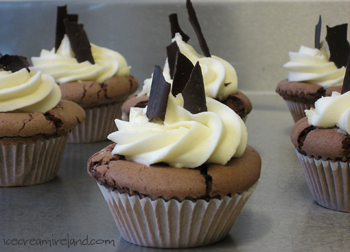 I have never baked cupcakes before, but coming across Chockylit's cupcakeblog made me want to give them a try. We were a little shy on cakes from our baker today in the shop, so I decided to go baking, and above are the results of my efforts using the cupcakeblog's recipe for chocolate mint cupcakes.
It is amazing what is out there in the world of blogging, and some of the recipes for cupcakes on the above blog are truly interesting, especially the ones using herbs and flowers. There's even an ice cream cupcake. Definitely something to try soon…
Technorati tags: chocolate, cupcake, baking, blog, cooking
This entry was posted on Sunday, November 12th, 2006 at 4:25 pm and is filed under Tips & Tricks. You can follow any responses to this entry through the RSS 2.0 feed. You can leave a response, or trackback from your own site.