A Sweet Cure for Hangovers?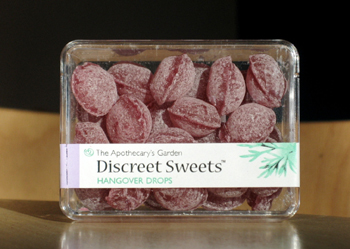 Given that it's the weekend, and there might be a few around with woolly heads, I thought it might be pertinent to write about a product my brother found. We're now stocking Discreet Sweets Hangover Drops in our shops. I wouldn't know too much about their curative properties, but they do contain panax ginseng, which could well help mental acuity. They are fully natural, also contain bramble, orange, raspberry and rosehip, and the red colour comes from beetroot. I'm going out tonight, so maybe I will test them tomorrow together with a cappuccino!
Technorati tags: sweets, hangover, cure, ginseng
This entry was posted on Saturday, November 18th, 2006 at 3:11 pm and is filed under Dingle. You can follow any responses to this entry through the RSS 2.0 feed. You can leave a response, or trackback from your own site.