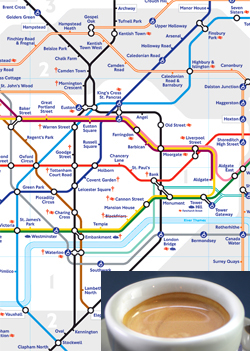 Before I start, I have to say that my time in London was extrememly limited, since I couldn't resist the chance of going up to Stafford to visit Has Bean on my only full day, and I'll write more on that later. That meant there were loads of places I missed, and I was very sorry for it! I had some mediocre coffee as well, which I wont go into, but here are the coffee shops that I visited and think are worth a mention: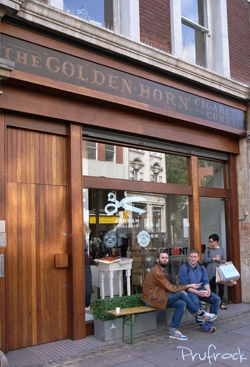 Prufrock (140 Shoreditch High St., in a men's clothing shop called "Present." The outside sign says "Golden Horn Cigarette Company.") That address already should give a bit of an idea – to me this seemed to be more about the barista – the extraordinarily capable Gwilym Davies (World Barista Champion, 2009) – than the customer. The machine was of the hand-pulled variety, the care and attention to detail on the coffees was very high, and my espresso was excellent.
While I hugely applaud thinking outside the box in terms of business models, you should know that the only seating is a bench outside, there wasn't any interaction to speak of, and you feel a bit in the way since you're in a clothing shop. Also, all that care and attention means service is very slow – I think five separate people peeled off the queue in front of me while I was waiting – clearly their impatience overrode their desire for quality. A bit of banter from the barista might have kept them, but for me, even without it, the coffee was worth the wait…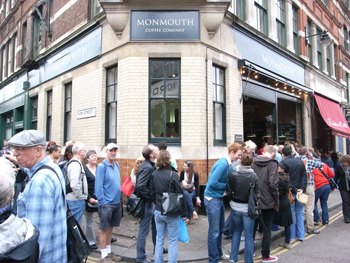 Monmouth Coffee (I visited 27 Monmouth Street, Covent Garden and 2 Park Street, The Borough). There's something about the Covent Garden shop I utterly love, and I'm not sure entirely what it is. Perhaps it's that you can feel the history of 40 years of roasting in the place, and although it's quite basic and cramped in terms of seating, it feels very comfortable and extraordinarily pleasant. The coffee was very good, the service was friendly and full of smiles. Definitely my kind of place! There are a huge range of beans to try, and some tasty sweet snacks.
I didn't have coffee in the Borough Market location (photo). I have never seen a queue for coffee that long anywhere in the world. It was mobbed – I'd say there were at least 50 people waiting (photo top), and I had a plane to catch!
Milk Bar (3 Bateman Street, Soho). If it's an Antipodean coffee shop you're after, check out the Milk Bar. It's long on attitude, but they served a good flat white. I didn't get to try anything else. There's food as well, if you need a nibble.
Kaffeine (66 Great Titchfield St., not far from Oxford Circus). Another Australian-accented place. I love that they use organic milk. Nice vibe, good coffee. I wanted to go back for an espresso, but somehow they closed earlier than I expected (6pm).
Fernandez & Wells (73 Beak St., Soho). I absolutely loved this place – great coffee and a few carefully selected food and drink offerings that were just random enough to excite – a big bowl of grapefruits for juicing, Macroom oatmeal, etc. The love, passion and care in the place is abundantly obvious. Friendly service as well. If I lived in the area, it would definitely be my local. They have a food and wine bar as well that I would love to go back and visit.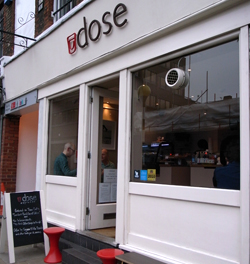 Dose (69 Long Lane, City). If you find yourself in the City, you could do much worse than seek out Dose. They had excellent coffee, and I found it an excellent stop for both an espresso and latte to boost myself up for my flight back home. It was Saturday morning, and it had a steady trade with a very relaxed mood. I don't know if it gets crazy during the week, but I hope so for them, because it's a place that deserves to do well.
Again, there were more I would have liked to visit, so this isn't a comprehensive list!