Chill Out! Desserts Magazine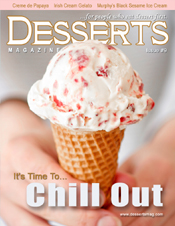 For those of you with a penchant for ice cream (and I'm assuming, given this site, that's most of you!) you might wish to check out the current issue of Desserts Magazine.
I'm not just saying that because they have a full three spreads on us (here), including the black sesame and Irish whiskey recipes, but they have loads of interesting ideas, including a sassafras ice cream rootbeer float, a caramel ice cream Guinness float, a "Sunset Sorbet" which sounds divine: prickly pear and tequila are the prime ingredients, and even ice cream sushi!
Technorati tags: irish, ice cream, recipe, Desserts Magazine
This entry was posted on Friday, July 24th, 2009 at 6:57 pm and is filed under Awards, Press, Publicity. You can follow any responses to this entry through the RSS 2.0 feed. You can leave a response, or trackback from your own site.