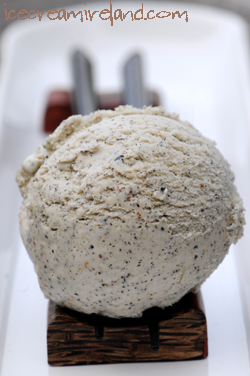 One of the most dramatic flavours I encountered on our Tokyo trip was black sesame ice cream. It has a nutty, roasted flavour and it tastes like no ice cream I've tried before. Of course, black sesame is used quite a bit in Asian cooking, but it seems very well suited to ice cream. This is not a flavour for everyone, but there are people who have tasted it in our shops over the last week who have simply raved. If you want to try it, here's a recipe:
Murphys Black Sesame Ice Cream
Ingredients:
125g sugar
5 egg yolks
230 ml cream
200 ml milk
40 g black sesame seeds
What to do:
Put the sesame seeds in a sauce pan over medium heat and stir until they start popping and you can smell the flavour.
Remove from the heat and cool.
Transfer to a blender and blend it until fairly smooth.
Beat sugar and egg yolks together until pale yellow.
Bring the milk to a simmer.
Beat the milk into the egg and sugar mixture in a slow stream. Pour the mixture back into pan and place over low heat.  Stir until the custard thickens (around 65C).
Allow the custard to cool.
Whip the cream and fold into the mix.
Stir in the sesame.
Freeze the ice cream using a domestic ice cream machine.
Otherwise, cover and place in the freezer, stirring every few hours to break up the ice crystals.
6 Servings.
Notes:
1. If you have trouble finding black sesame, check your local Asian food market.
2. To pasteurise the eggs, heat the custard to 73C and keep at that temperature for three minutes. Use a cooking thermometer, though! If the custard goes any higher than 76C, the eggs will scramble. Immediately cover and place in the freezer until cool.