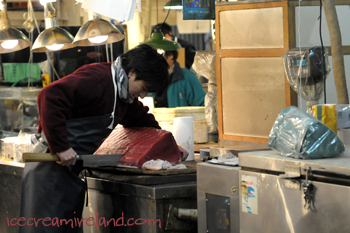 Our days have been so packed here, it's hard to cover things in any kind of detail. Yesterday, we started at the Tsukiji Fish Market, which they say is the largest in the world. It's a great experience, although it's such a hive of activity, it's hard not to feel in the way! There's row upon row of fish stalls, and a huge fruit and vegetable section as well. I'll be back later in the trip for some sushi…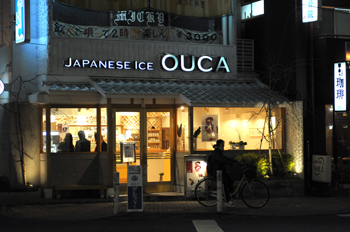 We had lunch in a neighbouring hotel as part of the Irish trade delegation, and then, in the afternoon – ice cream! We went to Ouca, a shop with fairly wild flavours from a western perspective – a seasonal pumpkin, black sesame ice cream, salty soy ice cream lotus blossom ice cream, red bean (azuki) ice cream, etc. 
The flavours were fun, but I think it was an Italian pre-fabricated base, if I'm not wrong. An interesting concoction that they served had agar-agar cubes with ice cream and red beans, topped with a sugar sauce.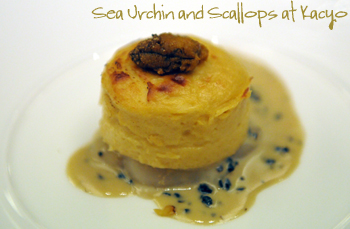 For dinner, we went to Kacyo, a Ryotei with private rooms that used to be a private men-only place for closing business deals.
The nine course dinner was great, with the sashimi served with edible shiso flowers and the lobster tempura being two of the highlights for me.
We staggered back to the hotel, stunned.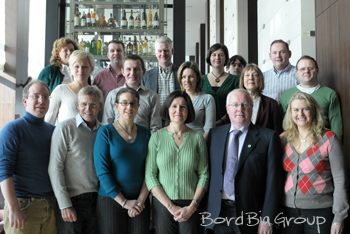 This morning, we had breakfast at Gordon Ramsey's restaurant in the hotel with the Minister for Agriculture. 
We then headed to some of the posh department stores including Takashimaya and Mid Town in Shinjuku, to check out the food halls.
The presentation and variety on offer was truly astonishing. If we had the former in Ireland, I would be in serious trouble.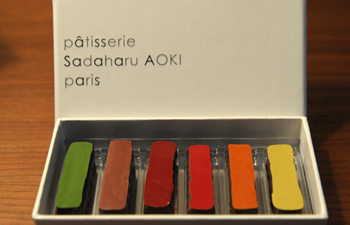 We had lunch in Mid Town at Yamanoue Tempura, and the shopping centre contained a beautiful branch of Sadaharu Aoki, a patisserier I first discovered in Paris, and Toraya for traditional Japanese sweets.
I have bags full of chocolates and confections, which hopefully will make it back to Ireland if I can exercise control. 
Tonight there's an embassy reception with the Taoiseach, but I'd rather keep eating and walking. Tokyo is far more relaxed and enjoyable than I would have imagined. It's been a brilliant trip so far.