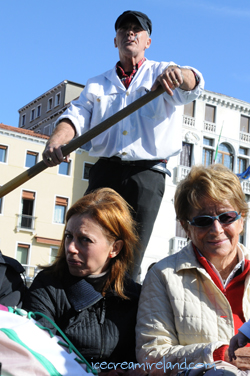 I've been back a few days now, but it's hard to get Venice out of my mind. Next time, I'm definitely going to stay more than a week! Anyway, for anyone who might be heading that way, and I do suggest it, you have a treat in store. There were so many highlights of the trip, but here are my top ten reasons to go back soon (in no particular order):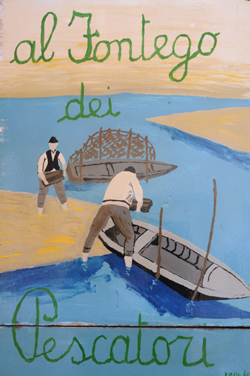 1. Al Fontego dei Pescaori. Sottoportego dei Tagiapiera, Cannaregio. Two years ago, this was our favourite restaurant in Venice, and this visit we liked it even more. It's traditional enough to satisfy Manuela, who is from Venice, and exciting enough to delight me. This time, they had a starter of pesce crudo, or raw fish, and they paired four fish with four fresh fruits. It was astonishingly good. They don't serve food with a lot of fuss – they just choose the very best ingredients and serve things simply. Culinary heaven, great atmosphere, great wine list, great desserts, and they were extremely welcoming toward our little baby. In fact, the owner said, "There is nothing more important than children, and I'm always happy to cook up whatever a child would like." Róisín will be weaned by the next trip…
2. Child-friendliness. It's a bit of a shock just how welcoming the Venetians were toward our baby. From shops to museums to restaurants, they were friendly and accommodating. I don't know if the same would hold in high season, when people are more under pressure, but we found it a great place to visit with a child. The only caveat is that Venice has a lot of bridges, so there's lots of carrying the pram over them! We also had a sling, but we did use the pram quite a bit.
3. Traghettos. These are gondola ferries that take you across the Grand Canal in several places. At 50 cent for a gondola ride, what's not to like?
4. Fish market. The fish market in Rialto is not as big as the one in Tokyo, but it has a great buzz and can be the perfect place to pick up a tasty lunch. We rented an apartment, so we could do a bit of cooking, and fish is a natural ingredient in a sea-fareing city. It's wise to get there early, before the best bits are gone. It's also a great place for a wander.
5. Venice Biennale. Take an already beautiful city, and then pack it with art, mustic, dance, theatre, and architecture shows – brilliant! If you're in Venice during the Biennale, there is so much to see. While they have the main expositions in the Giardini and in Arsenale, it's the shows scattered throughout the town that we found most exciting – on any walk, you can come across the distinctive red sign and dip in to a mansion or monastery for a free culture hit.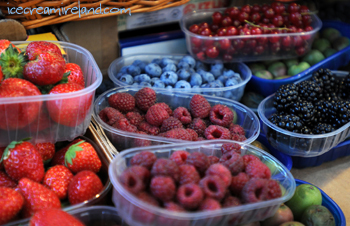 6. Fresh fruit and vegetables. Coming from Ireland, the quality of the fruits and vegetables amaze. There's a huge vegetable and fruit section at the fish market (above) but there's also stands throughout town. You really can't go wrong if you stick to the seasonal and local, and there's lots of it… You will also find the prices extremely reasonable.
7. Osteria Boccadoro. Campo Widman, Cannaregio. We had our last meal here, and it really did impress. When we asked what the chef suggested, he ran into the kitchen and returned with a branzino (kind of sea bass) flopping on a tray. He told us his siesta had been disturbed by the fisherman's call tipping him off to a good catch, and that we wouldn't taste a fresher wild fish on our visit. This is a restaurant that has no freezers – everything is fresh and local. They also have a 5 chocolate mousse that is to die for. Just be prepared for the bill, though. It ain't cheap!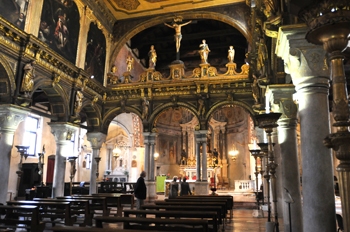 8. Beautiful churches. The architecture in Venice is beautiful and some of the churches are just stunning. You can even catch reasonably-priced classical music concerts in some of them in the evenings (most often Vivaldi, who lived in Venice).
9. No cars. It's hard to get used to the serene quiet of no car engines. There are boats, but it's not the same at all. It also means you walk and walk, getting lost in the lanes and alleys, finding hidden treasures, and that really is one of the best parts to a visit to Venice.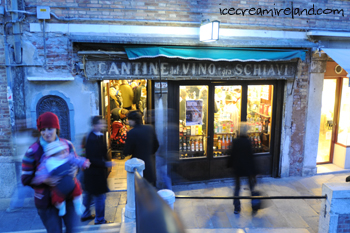 10. Prosecco. Stopping into a bar for a pre-dinner snack and glass of prosecco (or a spritz, which came in with the Austrians but has become very traditional) is a true joy and feels very decadent indeed.
Note: Venice is packed with tourists, and like many places the temptation to take advantage is high. However, if you do a bit of advance planning for where you're going to eat, avoid places with tourist menus, make sure you understand the cost of anything before you buy, don't have a coffee in St. Mark's square without expecting to pay through the nose, use cash machines when you need cash, and avoid the summer, you should avoid any unpleasant experiences and have a great time…