A Foodie Gem in the Kingdom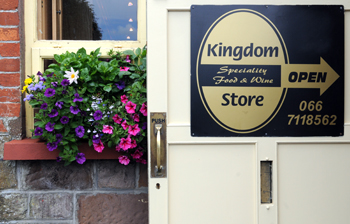 Today, we had to go to Tralee to pick up a few bits and pieces for the baby, and we stopped in for lunch at the Kingdom Food & Wine Store in Oakpark. Anyone in Tralee feeling peckish or looking for some interesting food products should check it out. They have a great range of gourmet foods, an impressive selection of wines, and delicious sandwiches and other goodies.
It's on the Listowel Road and within easy walking distance to the bus/train station, so stop in if you're heading on a trip!
Technorati tags: Tralee, deli, food, wine, Kingdom, Kerry
This entry was posted on Thursday, July 16th, 2009 at 10:06 pm and is filed under Ireland. You can follow any responses to this entry through the RSS 2.0 feed. You can leave a response, or trackback from your own site.