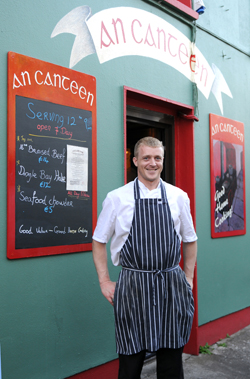 Dingle has a few new eateries this year, and one of them is An Canteen on Dykegate Lane, just beyond the Hideout Hostel.
Having a little, fussy baby, I haven't eaten there yet, but my brother has had several meals and was quite pleased with his experiences. The food is locally sourced, the prices are very reasonable, and the flavours are intense. So many people ask for a reasonable place to get good food in Dingle – well, here is one, so check it out!
And, in case you're wondering, they are child-friendly, and the atmosphere is relaxed. It's just that my baby isn't yet restaurant-friendly!
Technorati tags: Dingle, restaurant, food, an canteen, ireland