Off to Donnybrook: Today with Pat Kenny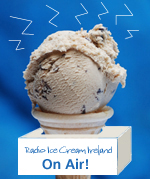 For anyone interested, I will be on Today with Pat Kenny on RTE Radio One  today, talking about ice cream and the state of Irish  foods.
This entry was posted on Friday, July 3rd, 2009 at 8:41 am and is filed under Awards, Press, Publicity. You can follow any responses to this entry through the RSS 2.0 feed. You can leave a response, or trackback from your own site.