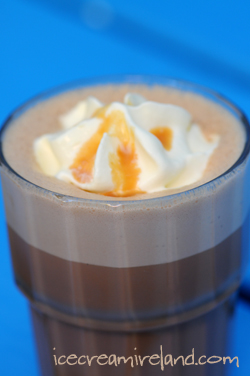 I've been wanting to make a caramel hot chocolate for a while, and today I made a few trials, using dark chocolate, milk chocolate, and cocoa. The best one was the one I made with milk chocolate, and perhaps it also would be the best addition to the line up of hot chocolates in our shops, since we have plenty of dark options, including our Extreme Cocoa. This is very sweet, but it's very delicious.
I don't exactly know what to call it, so let me know if you have any ideas! Here's the recipe:
Murphys Hot Milk Chocolate with Caramel
Ingredients:
200 g milk chocolate (good quality)
550 ml milk
250 ml caramel sauce
What to Do: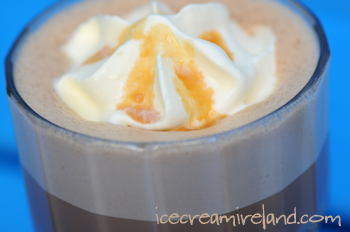 1. Make the caramel sauce. 
2. Melt the chocolate in a double boiler or microwave.
3. Combine the milk and caramel sauce in a saucepan and warm.
4. Add the warmed milk to the melted chocolate in small parts, mixing all the time, to create a smooth emulsion.
5. Warm to drinking temperature (55C).
6. Garnish with whipped cream, drizzle with caramel sauce, and enjoy!
Six servings.
Note:
The quality will really depend on the quality of chocolate that you use. I suggest Valrhona, Callebaut, or Lindt milk chocolate.

Technorati tags: hot chocolate, chocolate, milk, caramel, hot, recipe