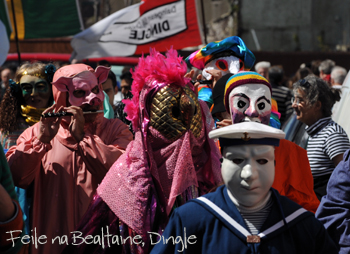 Anyone thinking of heading to Dingle in the near future would do well to schedule their trip to coincide with Feile na Bealtaine, which runs from Wednesday, 29th April, to Monday, 4th May 2009. Although I'm naturally partial to the Dingle Food Festival, Feile na Bealtaine is my favourite festival of all. It's so eclectic, with such a range of interesting things from all over the world, while at the same time being very, very local in feel.
 Some of the highlights this year include Nuru Kane from Senegal, Jack L, Michael O Suilleabhain, and a political symposium with the Ambassador of the Kingdom of Lesotho and the head of the Palestine Delegation. However, it's really all of the small events around the place, from literature to art to short films, that make it special, and any one of them might be something one might remember for decades to come. 
You'll find a schedule of events here. Come on down if you can!
Technorati tags: Dingle, music, festival, bealtaine, feile, literature