IIA Awards Shortlist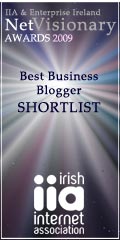 I'm happy to announce I've been shortlisted for the Irish Internet Association's Net Visionary Awards. 
Other business bloggers shortlisted are: Aedan Ryan: PuddleDucks.ie, Damien Mulley: Mulley Communications, Maryrose Lyons: Brightspark Consulting, and Peter Donegan: Peter Donegan Landscaping.
It's pretty cool to be in such company, and thanks to the judges (I promise I didn't send in any brown envelopes stuffed with ice cream)!
From here on in, it's a popularity contest. The winner will be chosen by votes from people such as you, so please click here and have your say!  Closing date for votes is May 1st.
Technorati Tags: Irish, internet, award, net visionary
This entry was posted on Thursday, April 16th, 2009 at 2:26 pm and is filed under Awards, Press, Publicity. You can follow any responses to this entry through the RSS 2.0 feed. You can leave a response, or trackback from your own site.