You know you're a blogger when…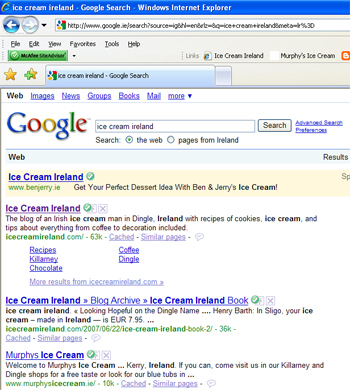 You know you're a real blogger when even as a tiny company, you can get a reaction from a huge company. In this case, Ben & Jerry has decided to pay for the google.ie search "ice cream ireland" so that their site will come up above mine (see above) as a "sponsored link." I'm not sure whether to be flattered or frustrated by the possible confusion this might cause among readers. 
What's ironic about their move is that Ben & Jerry built their brand by taking on the food giant Pillsbury, and their "What's the doughboy afraid of" campaign. Now they are owned by food giant Unilver, so maybe the question should be, "What are the Vermont boys afraid of?"
Given that google charges per click, maybe I should start a campaign to get people to click on the link as much as possible! Still, I hardly think a company their size would feel the pinch much…
This entry was posted on Monday, February 9th, 2009 at 6:52 pm and is filed under Musings. You can follow any responses to this entry through the RSS 2.0 feed. You can leave a response, or trackback from your own site.